Posted by Klair Czyra Davad on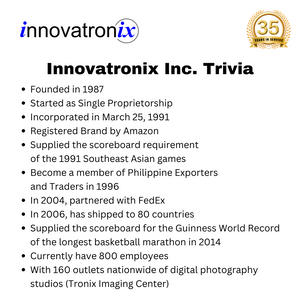 Did you know that Innovatronix Inc is a medium sized company based in the Philippines with 800 employees?
𝗪𝗵𝗮𝘁 𝗺𝗮𝗸𝗲𝘀 𝗼𝘂𝗿 𝗽𝗿𝗼𝗱𝘂𝗰𝘁𝘀 𝘂𝗻𝗶𝗾𝘂𝗲?
As we manufacture the solution, we do so with the end user's specifications in mind, ensuring the best experience.
𝗪𝗵𝗮𝘁 𝗽𝗿𝗼𝗯𝗹𝗲𝗺 𝗮𝗿𝗲 𝘄𝗲 𝘀𝗼𝗹𝘃𝗶𝗻𝗴?
As engineers, inventors, and manufacturers of scoreboards and photography equipment, we take great pride in our work when we are able to create innovative solutions to electronic scoreboard problems that exceed our customers' expectations.
We are the largest manufacturer and supplier of scoreboard in the Philippines.
Being the only Filipino firm experienced in making electronic displays, and Innovatronix was contracted to make the scoreboards for the Southeast Asian games held in Manila in November 1991. This big break became the starting point of bigger opportunities for Innovatronix. It is our pride to meet the requirements of a big sports events like the Southeast Asian Games...